Earn Huge Money Reconditioning Batteries
- Learn how to recondition NiCad Batteries -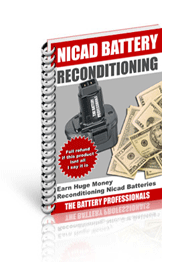 Earn Huge Money Reconditioning NiCad batteries for local tradesman or save a fortune by reconditioning your own batteries at home.
During a thirty year career in the NiCad Battery Industry I have been approached by countless people who were searching for a method to recondition the NiCad Batteries in their Power Tools.
As a result of those enquiries and after a vast amount of research, I have developed an easy method for a complete novice to reinvigorate NiCad Batteries.
Armed with the information in this report, you will have the knowledge required to restore most NiCad batteries that have lost their ability to hold a charge or even absorb a charge and are therefor not able to perform the task for which they were designed.
This process is very easy to perform in your garage or workshop and can save you a fortune over your lifetime, especially if you are a tradesman or home handyman who use their power tool on a daily basis. You will need a cheap voltmeter and a source of power.
Make a Six Figure Salary Reconditioning Batteries.
Guide to possible earnings.
Batteries sold daily
Per battery
Possible income
25
$20
$185,000
30
$20
$219,000
35
$20
$292,000
Establish a new business reconditioning batteries catering for the tradesman and home handyman in your local area. Customers can be found with the assistance of eBay, your own website or the local Yellow pages. Perhaps you could leave a businesscard with local Power Tool retailers. Once locals get to know about you, you'll be very busy.
Sincerely yours,
The Battery Professionals